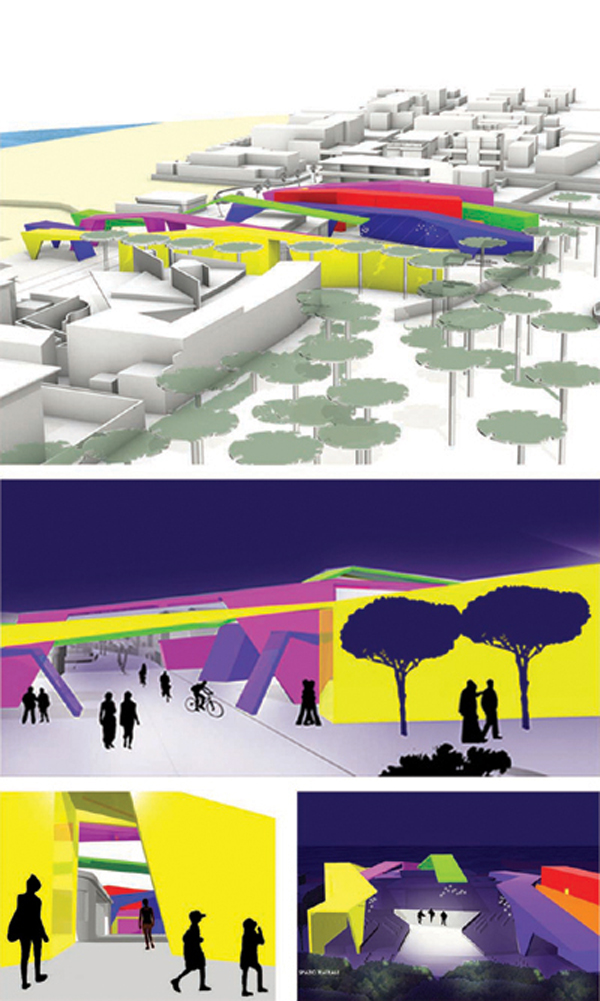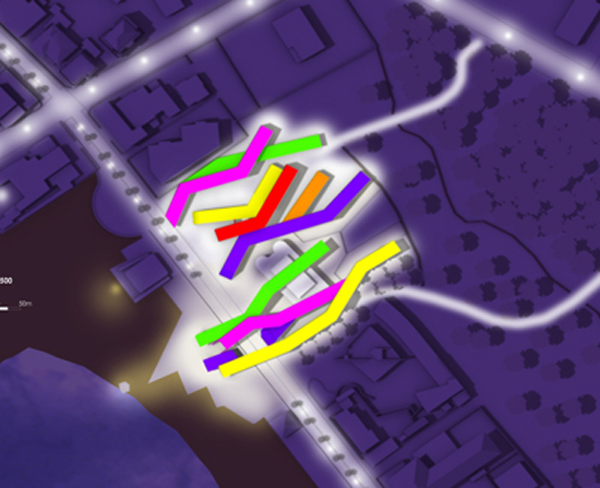 Urban regeneration of "Terrazza dei Tirreni" area
Cecina (LI)
---
Cecina's waterfront is characterized by a fragmented and disorganized built environment; the project proposes fragmented shapes, though organized in one coherent whole that can easily stand up and characterize the urban space.
The idea is born as a playful revisiting of "scraps washed up from the sea". So the area is occupied by light volumes, long boxes with fixed width (5m) and varying height, placed so as to create flowing compositions that define indoor and outdoor spaces.
Indoor spaces contain the proposed functions, outdoor spaces become canopies and galleries that block the noon sun creating shadows and islands of natural wellbeing.
The former summer camp building became part of the whole, while maintaining its own independent volume.
The proposed volumes light up at night
The colored and bright shapes, different from the surrounding buildings, stand out clearly, as a strong visual display.
Structure
The structure should look nearly weightless. It will be made of a light steel frame, with horizontal and vertical truss.
Cladding
All the volumes are covered by stretched technical membranes, suited to provide shelter against weather conditions. The membranes give the complex an unusual appearance and create interior spaces pleasantly lit by sunlight.
The fabric has not only an ornamental purpose, but also addresses energy, technical, safety and maintenance problems.
The transparency and lightness effect is accentuated by led lights placed under the cladding.
Proposed use
The three main uses of the complex are: culture, entertainment and commerce.
The spaces, however, are flexible and can be adapted to different uses.
The proposed arrangement is been chosen thinking about the need to create a core of activities that can attract people throughout the year.