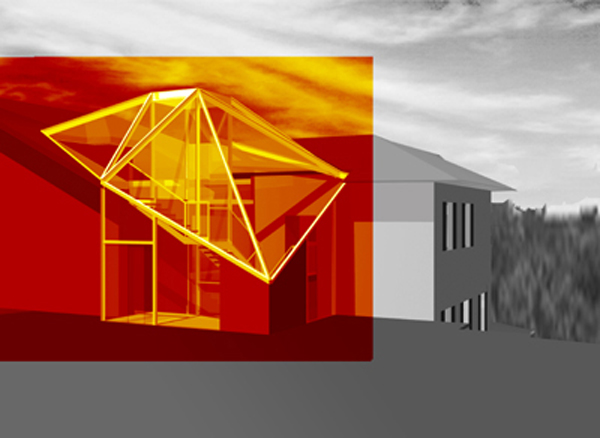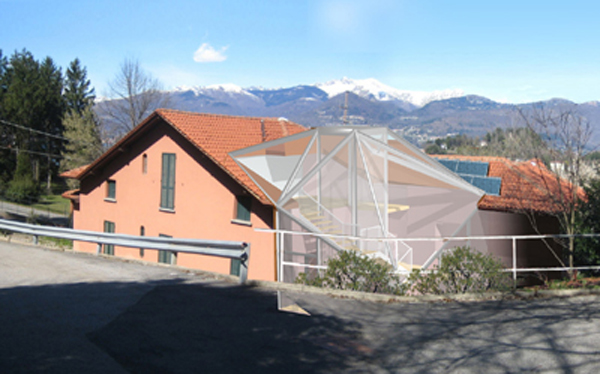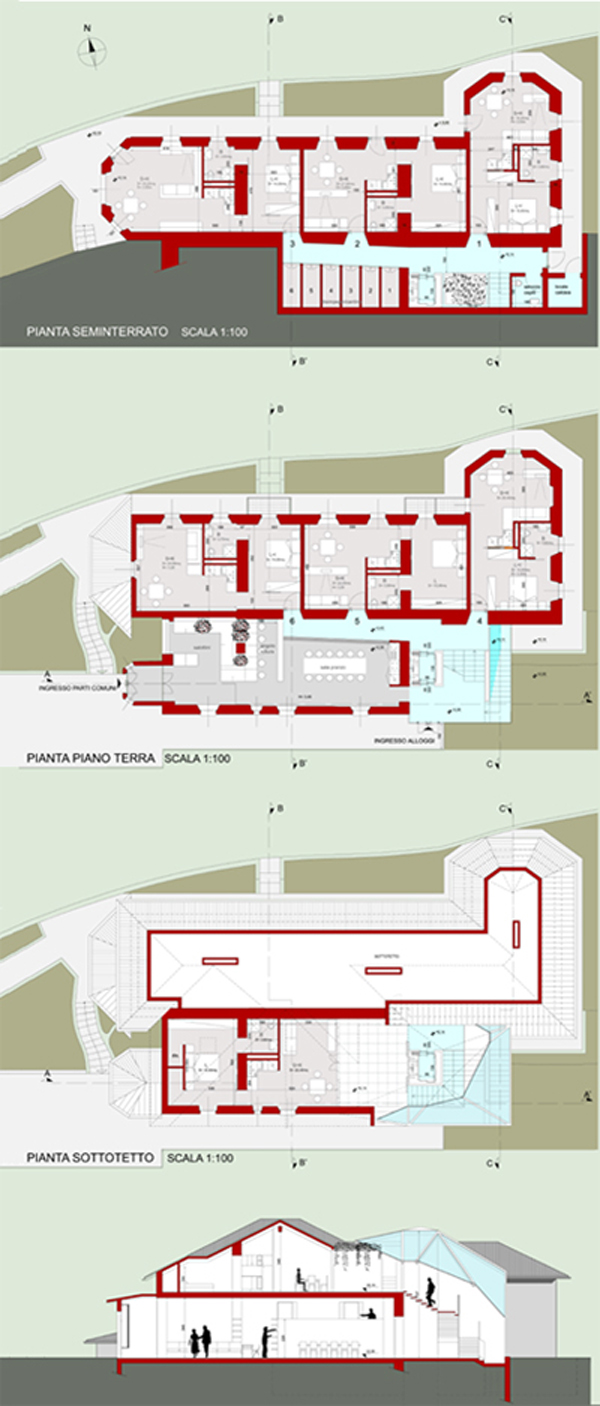 Seven apartments for self-sufficient elderly have been created through the renovation of the whole mansion
The main point of the proposal is the demolition of the stairs and all the non structural internal walls. The available space is then rationalized to obtain:
7 apartments of 45 m2 each,
a 60m2 shared living room.
These spaces are connected:
Vertically with a new staircase and a lift located in a new volume on the south side of the building
Horizontally with a corridor diggen into the rock and a suspended passageway. Both pathways are visually connected with the common room.
New volume
The stairs and the lift are placed inside the new volume. It's a big conservatory, closed with faceted glass-walls, which originate from the top of the lift and come down to cover the pedestrian pathways and the stairs.
This volume has a free and natural shape, completely different from the connected building, with which it create a nice contrast. It's a transparent screen that visually connects the interior with the garden.
This volume, thanks to his constructive material (glass), shape (faceted) and orientation (south), works also as:
a solar collector in winter
a conditioning system during the summer, thanks to the air circulating through roof openings
Apartments
The apartments are similar to each other. They have two room with standard facilities: a living room with a cooking corner and a double bedroom connected with the bathroom.
The layout has been designed in order to minimize the walking distances inside the apartment. There are no corridors and the whole surface is used for the living space. The room dividers are often constituted only by 2m high cabinets.
A technological wall separate the bathroom from the cooking corner and allow the passage of all the needed pipes. Thanks to this layout the implants are of cheaper installation and easier maintenance.
The three apartments on the ground floor have two entrances: one from the garden and one from the internal corridor. In this way all the people can go to the common room without get off the building.
There are no architectural barriers: internal doors are 85cm large, external doors 90cm, without steps. The lift connects all levels.
Energy saving
The external walls and the roof have been insulated, doors and windows frames have been replaced.
Heat come from a floor heating system, that allows internal comfort with low temperature of the circulating water.
To implement this system, solar panels can be installed on the roof.
The existing boiler can be substituted with a heat pump - we are near a lake - in order to nullify CO2 emissions.