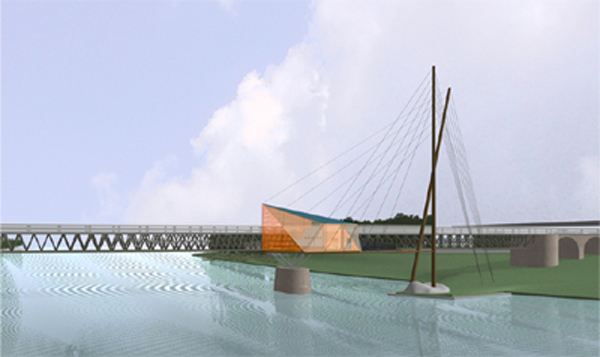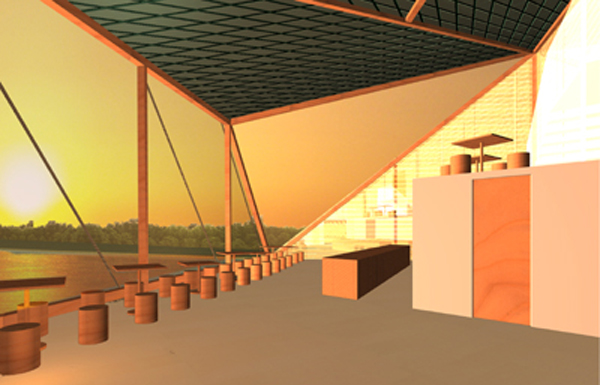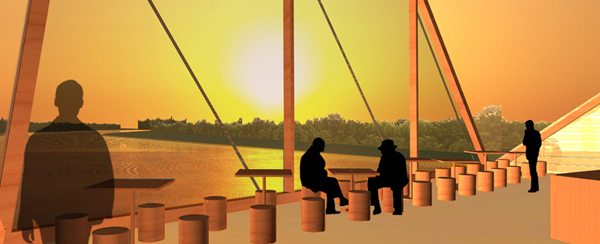 Observation Deck on the Po river
Piacenza
Published on DVD by "Ordine degli Architetti di Piacenza"
This project is intended to provide an Observation Deck and a snack bar suspended on the river. It's like a sort of Fisherman's House.
It's a light volume with an irregular and spontaneus design, made of wood, steel and glass, that, thanks to its large trasparent surfaces, interacts with the sourronding nature and reflects the colors of sunset. A volume that can become a bright point in the night.
The east side of the building, parallel to the bridge, is closed with insulated and sound-proof structural wood panel - to protect it from traffic noise. The other three sides overlook the landscape with large glass walls.
The floor of the Observation Deck is aligned with the bridge lower beam. The volume is tall enough - 10m at its maximum - to be seen from the bridge and to constitute a visual appeal.
It's possible to go in:
from the sidewalk through a wood and steel footbridge.
from the cycle path, descending a ramp and crossin the bridge at the beams level. Therefore the deck can also be reached by bike. The deck is preceded by a large terrace with bicycle stands.
---