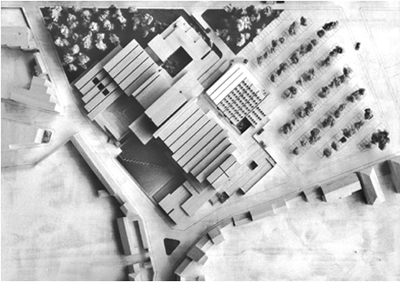 Theater complex
Udine
Competition - 5° place
In collaboration with Giuseppe Davanzo
Project exhibited in Udine and Roma.
The complex consist of two theaters, respectively of 800 and 200 seats. They are separated by a stage that can be used by either hall.
Several side structures contain spaces for production and staging: dressing rooms, rehearsal studios, scenic design studios, a library and a small open theater. There's more: a cafeteria, a restaurant and an exhibition gallery made up the rest of the complex.
The structure is modular and prefabricated where possible. The volumetric profile conforms to the needs of the interior, establishing also a balanced connection with the surrounding city.
The complex wants to be a stronghold for the show business in the city center.
Terraces, open spaces and a reflecting pool give the public area a distinctive look and make it a place to live all year along.
A large tree-lined parking place complete the complex.