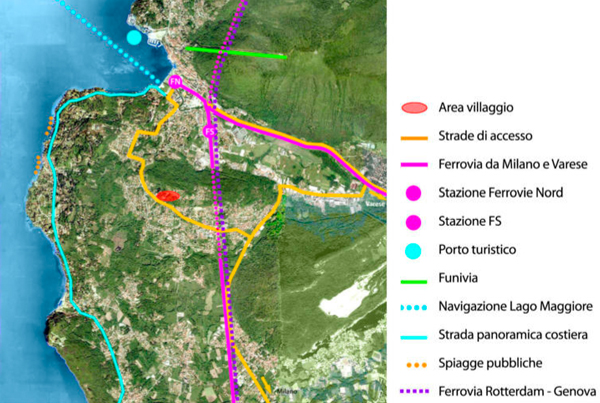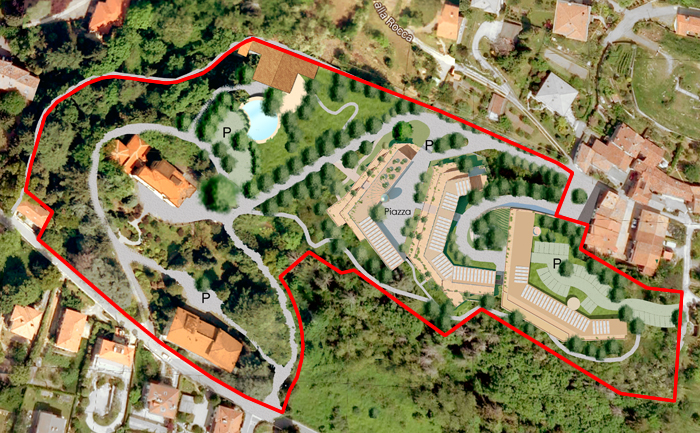 Laveno Village
Concept - A new lifestyle
"Laveno Village" is a touristic and residential complex
The village includes 70 apartments with different size and typology, built on the summit of Mombello's citadel. They are close to each other to create a modern castle, facing the sun and with a spectacular view of Lake Maggiore and Mount Rosa. The residences are inside a beautiful park.
---
Description
Inside the area, we can find:
a big park with several high-quality trees,
a liberty villa (Villa Pax),
a building facing the street used as a boarding house,
several scattered small buildings
The new complex comprises:
an hotel in Villa Pax,
a boarding house in the building on the street,
several new residences, different in size, built on the top of the hill,
a wide variety of services: polyfunctional centre, swimming pool, health facility, fitness trail...
Such a village lays the foundation for a modern lifestyle, less linked to repetitive actions and more opened to social, cultural and healthy life.
There's not a defined age to live here because the proposed model can adapt to anyone willing to live free in a beautiful place and a well-served complex.